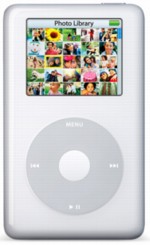 Mmmmmmm… Color iPods with photo syncing. And you can finally view all the album art you've been setting in iTunes. Included is an A/V cable for viewing slideshows (with music!) directly from the iPod. All this and updated battery life. Me want.
The only thing .. iPod Photo is a dumb name.
Update: Oh, yeah. They released a U2-branded version with a $50 iTunes store credit for the whole U2 catalog, soon to be available. Plus it's signed on the back. I don't know about the red and black color scheme, though.