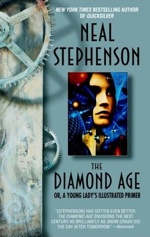 The Sci-Fi channel just announced a six episode miniseries based on Neal Stephenson's book, The Diamond Age.
Diamond Age, based on Neal Stephenson's best-selling novel The Diamond Age: Or a Young Lady's Illustrated Primer, is a six-hour miniseries from Clooney and fellow executive producer Grant Heslov of Smokehouse Productions.
Hopefully they won't screw this up.
Link to Sci-Fi's announcement.