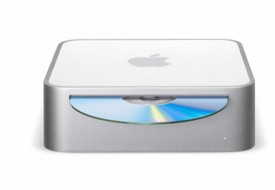 I'm sure you've all heard the low down on Apple's new Mac Mini, but I can't help but spout off about it some more myself. The thing will, I predict, be the killer piece of hardware for the Mac line – they're going to sell piles of these things. I mean, the thing is the same price as a high-end iPod! Everyone has always complained that Apple's were too expensive, even the low end eMac with it's built in CRT was too much when you could pick up a cheap white box PC for 300 bucks and use your existing peripherals.
Well, now, those people for whom Mac's were too much can quit complaining. For $499, you can get yourself a nicely configured basic Mac with all the productivity apps for basic user, including the newly announced iLife '05 suite, email, browser, Quicken '05, and even the venerable AppleWorks. Use your old keyboard, mouse, and monitor and ditch that old spyware-laden Windows POS and get yourself a piece of heaven.
Plus the thing is positively dinky. 6.5 inches square, two inches tall and weighs less than three pounds. Smaller even than the cult-status Apple Cube from way back when. This thing is sized more like a peripheral than a whole machine. Hell, I have external DVD drives that are far larger. And this one comes with one built in. (You can even add on a Superdrive DVD burner for some extra cabbage.)
Now my parents don't have an excuse not to get rid of the half-broken down machine they're limping around on.
Plus: doesn't that thing look damn sexy?