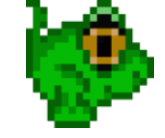 Andreas Röver has released a new version of the Tower Toppler source code, 1.1.0. The basic changes are:
Joystick support (though I have no way of testing this…)
In the level designer, elevators can now be made to pass doors
There was a condition where the little green guy could get stuck
A Windows bug with a strange .dll was fixed (not that this affects you Mac users)
I've updated the OS X packages on my Toppler page, though this update for Mac users probably isn't that big a deal.
Thanks Andreas!