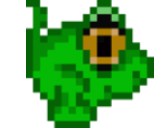 Yet another version of Tower Toppler, version 1.1.1 was releases by Andreas Röver. This comes quickly on the heels of the 1.1.0 version. The main changes are:
Included Pasis 2 Towers
New Finnish translation
Updated French Translation
I've updated the OS X packages on my Toppler page. Worth a download for the new level set!
Thanks Andreas!
Update, December 24, 2004: The issue with Toppler not running on 10.2.8 systems has been fixed. It was due to a missing function in the 10.2 C libs. The new version is 1.1.1-1